December 31, 2018
So for a lot of us that means ending the year with a blast and starting some new year's resolutions. I would say a good percentage of those people usually fail those resolutions within the first couple of weeks and I understand that because I'm usually that person. But last year was different for me for some reason. There was this hunger inside of me and it felt really good.
I wrote down 7 basic goals that I would like to complete in 2018 and then I printed them out, laminated them and stuck them all over my house. Including the inside of my shower where I'd be forced to look at them every day. Here's what that looked like: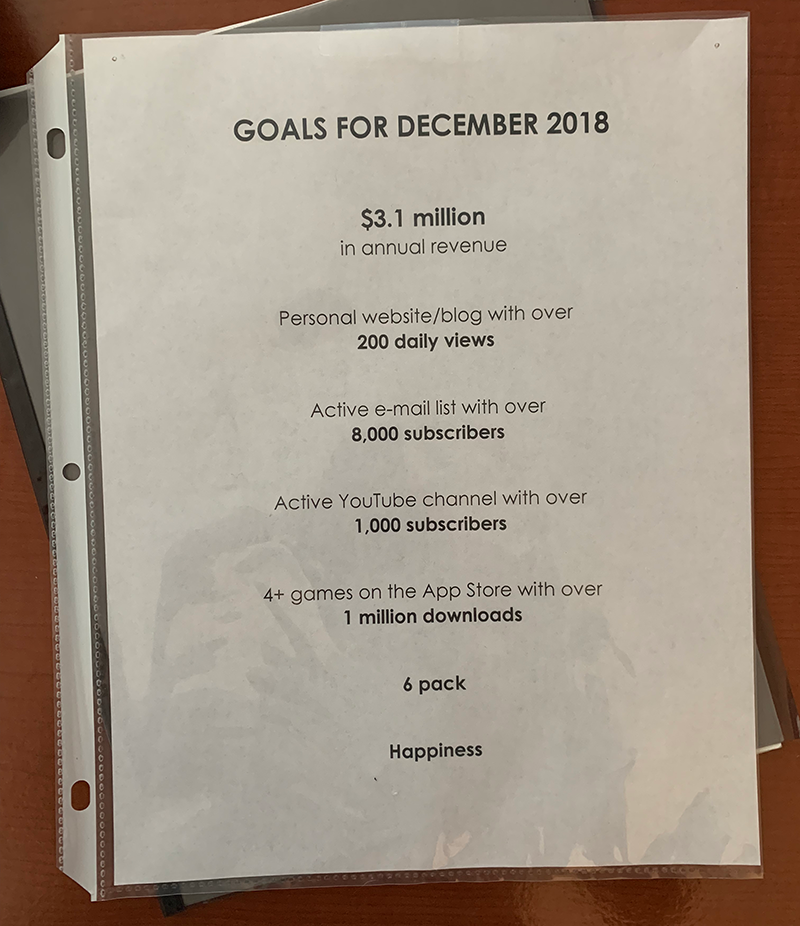 Each one had a specific amount and purpose (except maybe the last one). $3.1 million dollars in revenue is the exact amount of money I need to be able to never work another day in my life. 1,000 subscribers on YouTube was based off the idea of 1,000 super fans which is a theory that explains you only need 1,000 super fans to make a career as an creator. I started 2018 with a completely blank slate. I had no idea how hard it would be to build e-mail lists or YouTube subscribers. But none of that mattered because every single week I woke up and checked in on my progress.
It become a baseline for my dreams. I could look at this print out every week and ask myself what I can do to become closer to reaching these items. I'll be honest and say I haven't completed any of these items, but that's ok and here's why.
If I would've just started 2018 and blindly went on a path to be "successful" I would've gotten lost. I would've pursued whatever caught my attention in that moment and then moved on when I got bored. These goals became my road map and even though I didn't reach any of them, I can now 12 months later look back and be impressed by the progress I did make. I had 0 subscribers in January and now I have over 500. Had I not written down 1,000, I would've looked at 500 and said fuck, that's not enough. But I can now look at 500 and go wow, you made it half way there. You built something from nothing.
That sort of progress taught me something extremely important this year and I know I say this a lot, but BE PATIENT. Things take time to grow. And because of that, I've been able to challenge myself in other areas. I've picked up running every day, I attend therapy once a week and I've worked out anywhere between 2-3 times a week for an entire year.
But, I think my most impressive accomplishment this year has been completing my December Daily Vlog Challenge. This last week was probably some of my best content to date.
Despite what my metrics and analytics say, I feel successful. I feel accomplished and most importantly I feel focused. 2019 is going to be my year.
I'm going to take some time off these next couple of weeks to really focus on a game plan for 2019, including writing down and finalizing my goals. I look forward to sharing that with you soon, so stay tuned.
Happy New Year!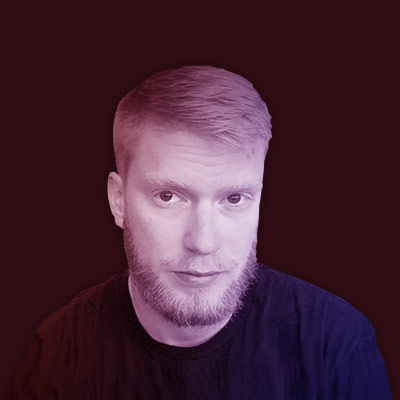 Subscribe For Weekly Updates
Delivered to your inbox every Monday at 2:00pm EST